Michigan-Ohio-Indiana Consortium
The February 19 consortium meeting was a huge success.  Thanks to AccuMed for covering the cost of lunch for the 48 people in attendance.  Thanks to the Hollywood Casino for being such gracious hosts.  We plan to upload the audio and slide presentations from presentations provided by Chief Chip Everett of Portage Fire covering data analysis and Captain Scott Gray of Grand Rapids Fire and Captain Trevor Wilson of Indianapolis Fire on community risk assessments.  We will also be uploading the panel discussion featuring Chief John Donahue of Delaware Fire, Chief Doug Isaacson of Bowling Green Fire, Chief Mike Kennedy of Ann Arbor Fire, and Public Safety Director Joshua Meier of Canton Public Safety.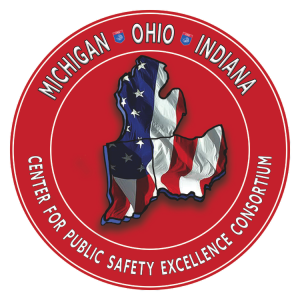 The next MOI Consortium will be:
Hosted by:          Indianapolis Fire Department  (during FDIC)
Date:                     Wednesday, April 10, 2019
Time:                     1100-1600
This meeting will include a presentation from the Toledo Fire Department pertaining to their relatively recent LODDs and the aftermath, a panel discussion on the accreditation process, and words from CFAI Program Director Karl Ristow.  Please RSVP as lunch will be provided.
All are encouraged to bring a quest or neighboring department personnel!
Contacts:
Dave Dauer, Toledo Fire and Rescue Department, (419) 245-1175
Scott Gray, Grand Rapids Fire Department, (616) 456-3108
Trevor Wilson, Indianapolis Fire Department (317) 223-9189